When Marion was a child in the 1930's, she wanted a doll house of her own. She didn't have one so she made doll houses from the cardboard that came from the laundry in her grandfather's shirts. He always saved them for her so she would have plenty to work with. But it was her grandmother who sparked her interest in all things miniature. In High School, for a school project she made a stage, complete with scenery flats and later learned that it was a perfect half inch scale.
Her interest continued so that in the 1950's when her daughter was 6 years old she designed and built her a doll house from ¼" plywood with wallpapered walls and carpeted floors. That led to a second doll house and a church with pews. She wired the doll houses with Christmas tree lights.
When she retired at 62, her daughter suggested going into business together to build and sell doll houses. Marion thought it sounded wonderful but too good to be true. Her daughter, to prove to her she could make any dream a reality if she believed in herself, helped her start her business. In 1992 Fantasy Craft sold their first doll house at a miniature show in California to a miniatures collector who ordered it from Priscilla's drawing and description. During the next five years Fantasy Craft produced doll house kits for over a dozen different models including the popular Craftsman Bungalow, Hacienda, Pueblo, Phoenix Adobe, Country Victorian, California Contemporary and the Tudor Pub. They also developed several room boxes, starting trends in the industry.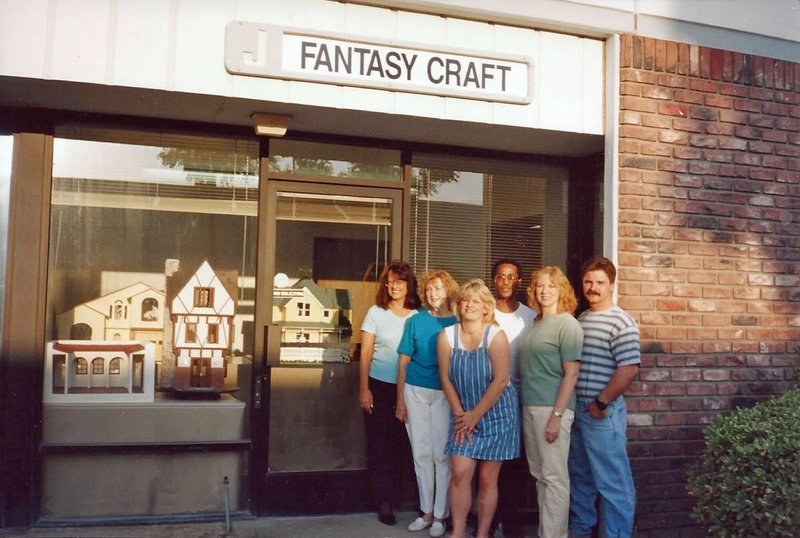 In 1997 they sold their manufacturing business to a major miniatures wholesaler and downsized to a new business, Marion's Merry Minis. Most of the doll house kits were discontinued by the wholesaler due to the complexity of manufacturing. Eventually the wholesaler retired, selling his wholesale business to a competitor who discontinued the rest of them due to manufacturing challenges. However, Marion's Merry Minis has begun manufacturing some of the room boxes and half scale houses on their own that are available today through the Marion's Merry Minis website.
Marion and Priscilla developed a line of miniature linens, sewing accessories, camping equipment, furniture, flowers, books, technology and more that mother and daughter have been selling at miniature shows in Seattle and Portland since 1997.  These are now also available on the Marion's Merry Minis website.
Today, 28 years later, Marion is actually retired. Still very active at 91, she continues to handcraft many of the Marion's Merry Minis miniatures products herself. Her daughter, Priscilla is also retired now. She manages Marion's Merry Minis and their website and handcrafts the majority of the Marion's Merry Minis products.

Marion partnered with some of her friends 20 years ago to form a miniatures club in Florence, Oregon; the "Central Coast Miniatures Club". We meet on the first Thursday of each month at 4pm in the Siuslaw Library where you are invited to visit as guests are always welcomed!